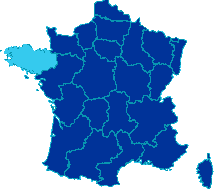 The county of Brittany (Bretagne) is located in the extreme northwest of France.
Rennes is the capital, there are four department in Brittany : ille et vilaine, finistère, côtes-d'armor and morbihan.

The islands of Brittany : Belle ile en mer, Ouessant, Les Glénans, ... you can see also many lighthouses.
The gulf of Morbihan is a small inland sea containing over 40 islands, Monks Island (ile aux moines) is the largest.
The Mount St-Michael(Located in Brittany and Normandie), in the gulf of Saint-Malo.
Brittany have many Castles (Chateaux), Manors, Cathedrals, Abbeys, ... and don't forget to visit the beautiful village of Locronan in finistère.

In 2007, the 37th festival from 3th to 12th August, Scotland is the county of honour.
Festival Interceltique : at Lorient (Morbihan) you have the best know festival of the world about Celtic music and cultural. Various Artists came from Europ (Ireland, Scotland, Spain, ...), USA, Australia, Canada, Japan ...

Gastronomy : fresh Breton seafood, Breton Butter Cookies / Cakes. Brittany is the home of pancakes (Crêpes and Galettes), Cider and Chouchen (liquor), ... France have the best food of the world isn't it ?